ISACA, sebuah asosiasi global yang melayani 140.000 sistem informasi profesional di 180 negara, mengumumkan 2015-2016 Dewan Direksi di Brussels, Belgia, pada tanggal 8 Juni 2015. Leonard Ong, CISA, CISM, CRISC, CGEIT, CPP, CFE, PMP, CIPM, CIPT, CISSP ISSMP-ISSAP, CSSLP, CITBCM, GCIA, GCIH, GSNA, GCFA, COBIT 5 Implementer and Assessor, terpilih sebagai wakil presiden ISACA Internasional.
Didirikan pada tahun 1969, ISACA memberikan pengetahuan, standar, jaringan dan pengembangan karir untuk sistem informasi audit, jaminan, cybersecurity, risiko, privasi dan profesional tata kelola. ISACA menawarkan Cybersecurity Nexus (CSX), seperangkat sumber daya cyber security, dan COBIT, seperangkat kerangka bisnis untuk mengatur teknologi perusahaan.
"Saya yakin dalam misinya ISACA dan pengaruhnya untuk membantu perusahaan memperoleh business value dari sistem informasi. Dengan terus meningkat ancaman dan secara terus-menerus mengadopsi teknologi baru, ranah cybersecurity merupakan daerah yang sangat penting untuk difokuskan. ISACA telah membentuk Cybersecurity Nexus (CSX) untuk mengatasi kendala dan risiko, "kata Ong. "Saya merasa terhormat untuk mewakili ISACA dan basis keanggotaan global. Sebagai anggota dan relawan selama lebih dari 10 tahun, saya akan terus bersemangat untuk berkontribusi kepada masyarakat melalui ISACA.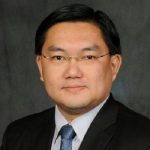 Leonard Ong, seorang alumnus Universitas Trisakti jurusan Engineering yang mampu membuktikan dirinya sebagai professional yang concern terhadap cyber security . Ong memiliki lebih dari 15 tahun pengalaman di bidang informasi dan keamanan perusahaan yang diperoleh dalam industri telekomunikasi,, perusahaan berbasis IT dan perbankan. Dia telah berpengalaman dalam berbagai posisi berbasis security professional, diantaranya adalah Corporate Security, Project Management, Consulting and Business Development.
Berikut adalah profesi-profesi yang pernah Ia jalani. Ong pernah menjabat sebagai Enterprise Governance and Security Practice untuk sebuah perusahaan regional. Sebelumnya, dia bekerja di Barclays Capital sebagai Head of Information Security Risk and Operation, pada wilayah Asia-Pasifik. Selama bekerja di Nokia Siemens Networks, ia menjabat sebagai Professional Security Services untuk operator telekomunikasi regional untuk mengamankan jaringan mereka. Ia menghabiskan tujuh tahun dengan bekerja di Nokia, mengamankan bisnis Nokia di wilayah Asia-Pasifik.
Ong telah menjadi relawan di beberapa asosiasi security, termasuk ISACA Singapure Chapter, di mana ia telah dua kali menjabat sebagai chapter president. Ong juga menjabat selama tiga tahun sebagai the honorary chairman of the ASIS international chapter.
Ong juga mendapatkan penghargaan dari Information Security Leadership Achievement (ISLA)-Senior Information Security Professional di tahun 2011, dan Professional Certification Board Regional Award pada tahun 2014. Pada tahun 2005, National Infocomm Competency Centre (NICC) menjuluki Ong sebagai "IT Specialist of the Year". Dibawah kepemimpinannya, ISACA Singapore Chapter menerima K. Wayne Snipes 2013 award for the best large Asian chapter.
"Leonard telah membuktikan dirinya sebagai pemimpin IT leader di Asia melalui kerja profesional dan relawan ISACA," kata 2015-2016 ISACA Internasional Presiden Christos Dimitriadis, Ph.D., CISA, CISM, CRISC. "Kami berharap untuk keterlibatannya di Dewan Direksi  ISACA, dimana semangatnya melanjutkan kesukarelaan akan sangat disambut."
Pada tanggal 8 Juni 2015, ISACA mengumumkan 11 Business and IT Leaders yang terpilih untuk menjabat sebagai Dewan Direksi ISACA periode 2015-2016. Diantaranya adalah:
International President Christos K. Dimitriadis, Ph.D., CISA, CISM, CRISC, group director of Information Security for INTRALOT, Yunani
International Vice President Rosemary Amato, CISA, CMA, CPA, director, Deloitte, Amsterdam, The Netherlands, program director for Global Client Intelligence (GCI), Belanda
International Vice President Garry Barnes, CISA, CISM, CGEIT, CRISC, MAICD, practice lead, Governance Advisory at Vital Interacts, Australia
International Vice President Robert Clyde, CISM, managing director of Clyde Consulting LLC, Amerika Serikat
International Vice President Theresa Grafenstine, CISA, CGEIT, CRISC, CIA, CGAP, CGMA, CPA, inspector general of the U.S. House of Representatives, Amerika Serikat
International Vice President Leonard Ong, CISA, CISM, CRISC, CGEIT, CPP, CFE, PMP, CIPM, CIPT, CISSP ISSMP-ISSAP, CSSLP, CITBCM, GCIA, GCIH, GSNA, GCFA, COBIT 5 Implementer and Assessor, Singapora
International Vice President Andre Pitkowski, CGEIT, CRISC, OCTAVE, CRMA, ISO27kLA, ISO31kLA, COBIT 5 Foundation Trainer, principal consultant APIT Consultoria de Informática Ltd., Brazil
International Vice President Eddie Schwartz, CISA, CISM, CISSP-ISSEP, PMP, president and COO of WhiteOps, Amerika Serikat
International Director Zubin Chagpar, CISA, CISM, PMP, head of Venture Capital Business Development in EMEA for Amazon Web Services, Inggris
International Director R.V. Raghu, CISA, CRISC, director of Versatilist Consulting India Pvt. Ltd., India
International Director Jo Stewart-Rattray, CISA, CISM, CGEIT, CRISC, FACS CP, director of information security and IT assurance at BRM Holdich, Australia
Referensi: isaca.org