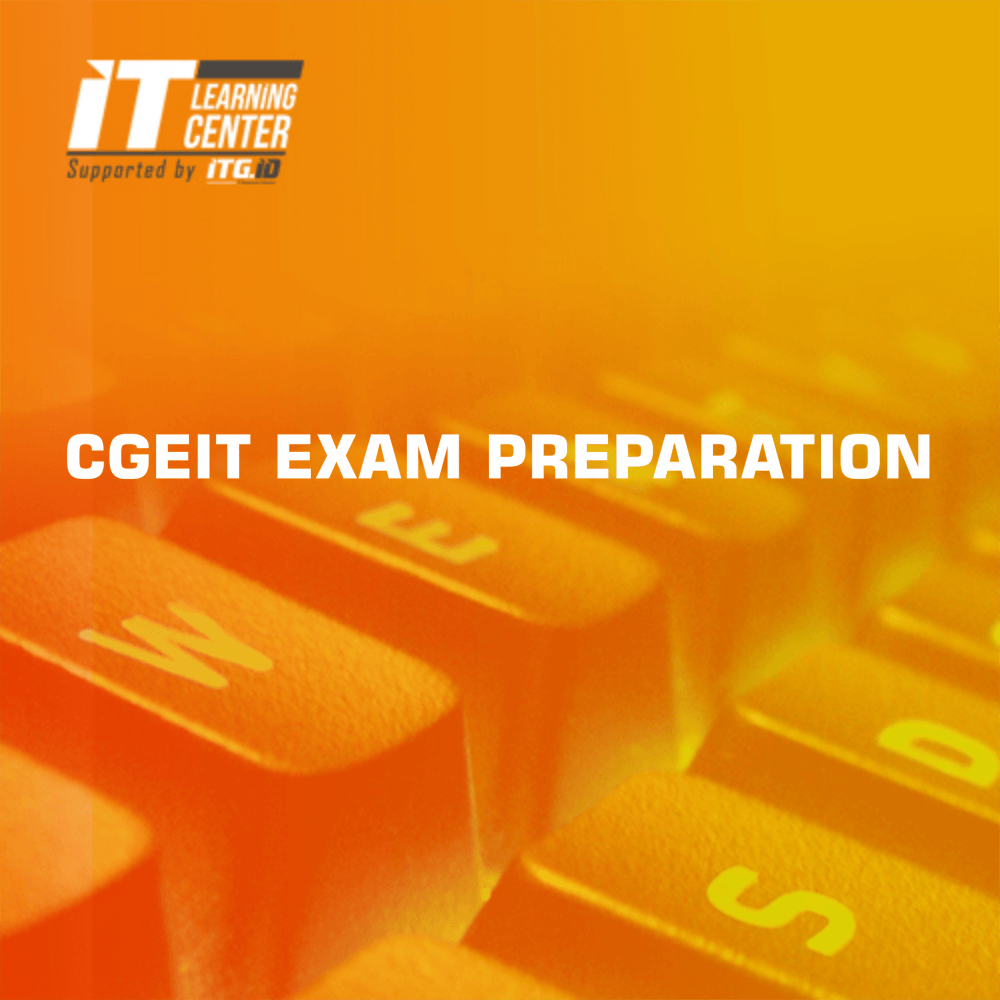 CGEIT Exam Preparation
CGEIT ISACA
Pendahuluan
CGEIT ISACA – CGEIT (Certified in the Governance of Enterprise IT) adalah sertifikasi profesional yang dibentuk pada tahun 2007 oleh ISACA. Sertifikasi ini diperuntukkan bagi professional yang bertanggung jawab mengelola keselarasan, sebagai kontribusi dan dukungan Sistem / Teknologi Informasi guna mencapai tujuan bisnin melalui realisasi manfaat, pengelolaan sumber daya dan resiko serta pengukuran kinerja Teknologi / Sistem Informasi tersebut.
CGEIT dirancang bagi profesional yang telah berpengalaman paling tidak 5 tahun di manajemen atau konsultasi tata kelola teknologi informasi di tingkatan korporasi serta berhasil melewati ujian tulis yang diadakan ISACA.
Dengan mendapatkan sertifikasi CGEIT ini dapat meningkatkan IT Governance, sebagai keunggulan kompetitif yang membedakan dengan orang lain, meningkatkan kredibilitas, pengaruh dan pengakuan.
Sampai saat ini sertifikasi CGEIT masih banyak dianggap perusahaan dan lembaga pemerintahan sebagai bagian dari tata kelola IT, karena dengan pengalaman dan pengetahuan dari sertifikasi itu dapat mendukung sekaligus memajukan tata kelola IT suatu perusahaan.
Dengan kondisi jaman yang semua pekerjaan dilakukan secara mobile, Tata kelola TI adalah komponen kunci dari tata kelola dan kesuksesan suatu perusahaan.
Tujuan Program Sertifikasi CGEIT ISACA
Untuk mengembangkan kompetensi pejabat pada bidang Teknologi /Sistem Informasi
Dapat melaksanakan Tata Kelola Teknologi / Sistem Informasi sesuai dengan standard framework yang diakui secara internasional.
Dapat lebih memahami hal-hal teknis dan non-teknis dalam menghadapi ujian sertifikasi CGEIT.
Manfaat Program Exam Preparation:
Menambah pengetahuan peserta dengan membedah latihan soal dan pembahasan contoh soal ujian sertifikasi CGEIT.
Membantu persiapan untuk mengikuti ujian dan memperbesar peluang lulus tes ujian Certified in the Governance of Enterprise IT.
Menambah pengetahuan dan ketrampilan tata kelola IT
Mengenali situasi ujian dan karakteristik soal serta memahami bagaimana cara menjawab soal multiple choice
Mempersiapkan diri secara optimal dalam mengikuti ujian CISA Syllabus
Peserta
Senior IT Management
Management Consultans
Experienced IT Control or Security professionals
Anybody involved in organization IT Governance
Materi yang Di Bahas:
Chapter 1
Intro to CGEIT
Creating & using Balanced Scorecards
GRC tools for Risk Management
Performance Measurement
Constructing a Governance Framework
Managing the Business Value of IT
Managing Resources
Chapter 2
Foundations of IT Governance
Strategic Alignment
The Business Value of IT
Value Management
Performance Measurement
Resource Management
Risk Management
IT Frameworks
Lokasi Training
IT Learning Center
Permata Kuningan bld 17th floor, Jl. Kuningan Mulia Kav. 9
HR. Rasuna Said, Jakarta Selatan – Indonesia
Hubungi kami untuk informasi lebih detail
Jakarta
Email : [email protected]
Phone/WA : 0811-1798-352
Surabaya
Email : [email protected]
Phone/WA : 0811 1798 353
Investasi: Rp. 8.000.000 (3 Hari)